At Horizon Animal Hospital, we offer you the convenience of getting your pet's prescription filled at our hospital with our in-house pharmacy or having it shipped directly to you from our online pharmacy.
Covetrus is an online pharmacy that has been directly verified by Horizon Animal Hospital. Our doctors have rigorously evaluated Covetrus to ensure that it is a safe option for your pets. Their products and methods of shipping and storage all meet Horizon Animal Hospital's strict criteria for what we look for in an online pharmacy. 
Online Pharmacy Policy: Due to the variability of online pharmacies, we do not approve prescription requests from any online pharmacy except Covetrus. You absolutely have the right to get your medication where you want; so while we will not sign any prescription request faxes, we are happy to provide you with a handwritten prescription that you can take to any pharmacy of your choosing. 
Why use our In-House Pharmacy
The health and safety of our patients are always our priority, so it makes sense that one of the main benefits of an in-house pharmacy is to make it easier for patients to receive the best possible care.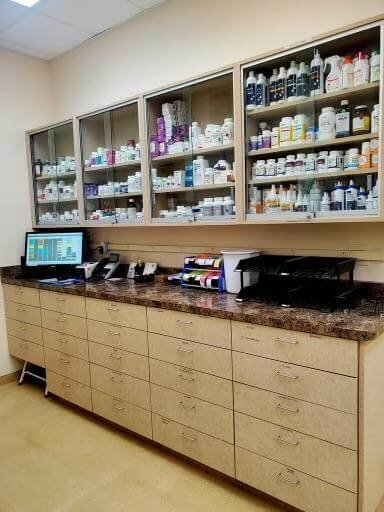 Having access to our in-house pharmacy makes this happen by:
Immediate Access to Medication
Overall Improved Patient Adherence
Improved Doctor-Patient Relationships
Time Effective Solutions
Quality control
Ability for the doctor to explain medication usage.
Ability for the doctor to go over what to expect.
Ability for the client to ask questions before taking drugs home. 
Ability to dissuade any potential fears the client may have of the medication regimen.
Ability for the doctor to see the client leave their appointment with medication in hand.
Support for your local business
Why use our On-Line Pharmacy
Using our online pharmacy is an excellent option for refills when a pet is on medication or food long-term. Our online pharmacy ships directly to your door and if you set up for auto-ship, you will save even more on time, and money. Auto-ship service offers flexible scheduling so you can easily adjust your order frequency or cancel at any time. Free shipping is included on medication over $49. Free shipping on Food Products enrolled in AutoShip and over $49. Place your online orders here Our online pharmacy