About Horizon Animal Hospital
Horizon Animal Hospital is an AAHA Accredited facility that was constructed to support our continuing mission of employing the latest medical technologies (including digital radiography, color ultrasound, and surgical lasers) to deliver the highest quality of medical care to our patients and their families.
The hospital is located in the Centennial Marketplace Shopping Center in Scottsdale, Arizona, on Frank Lloyd Wright Blvd. at 100th Street; just two miles east of the Loop 101 freeway. Horizon Animal Hospital is one of the leading Scottsdale animal hospitals
At Horizon, communication with our clients is a top priority. We strive to provide information about each medical option in order to achieve the highest quality, and most cost-effective treatment possible.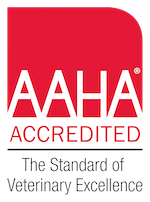 We offer complete, small animal veterinary care, including many important specialty services such as laser surgery, ultrasound, digital x-ray, and dentistry. For your convenience, we also offer pet boarding and prescription diets as well as retail pet food and supplies.
Only 17% of all small animal practices in the United States and Canada achieve accreditation by the American Animal Hospital Association. AAHA accreditation recognizes our hospital's commitment to meeting the highest quality standards of care for you and your pets. Learn more