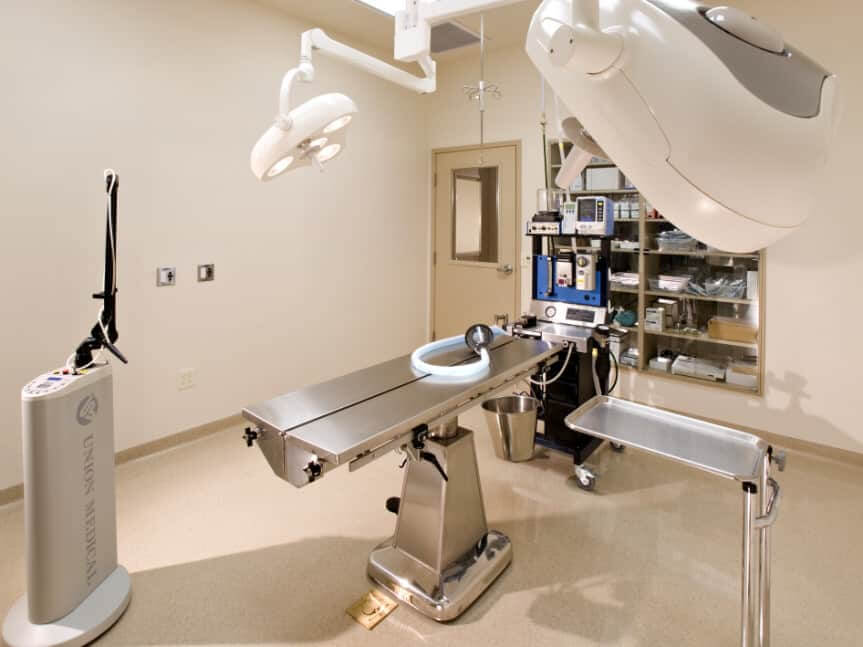 We believe in utilizing the highest level of medical technology, and our surgeons are experienced and highly trained. We also realize that it can be stressful to have your pet undergo surgery. We want to assure you that your pet is in good hands and that we will do everything to provide the best care possible. We will communicate with you about the things you need to know before, during, and after your pet's surgery. It is our goal to make the entire process go smoothly and to eliminate the stress and worry of surgical procedures. Our surgical team uses the same safety measures as in human hospitals, this includes pre-anesthetic exams and diagnostics to ensure your pet is healthy enough for their procedure.
The main Surgery is a special room where all major sterile procedures are performed. This includes routine spays and neuters, as well as advanced abdominal, exploratory, and other surgeries.
This room is equipped with sophisticated equipment, including life support systems, respirators, and monitors. The most modern anesthetic agents and procedures are always utilized, and an experienced surgical technician assists the doctor in closely monitoring the patient's progress.
Surgeries that we perform at Horizon Animal Hospital include:
Gastrointestinal foreign-body removal
Tumor removal
Splenectomy
Laceration repair
Animal bite wound repair
Toe and limb amputation
Cesarean section
Anal sac removal
Brachycephalic airway surgeries
Cystotomy
Mastectomy for breast cancer
Subtotal colectomy
Gastrotomy
Enterotomy
Gastropexy
Intestinal resection and anastomosis
Oronasal fistula repair
Nephrectomy
Perineal urethrostomy
Pyometra
Sialadenectomy
Feeding tube placement
Cryosurgery